RedBox TV is a mobile program for Android devices that will give you a vast range of TV channels with live TV shows and movies, comedy projects and cartoons, sports events and news, and much more. This program contains a built-in video player that you can use with another third-party video player to view content from the app.
Working with APK files
To start using this RedBox TV, you should download its APK file. This is a unique installation file for Android devices. If a user is used to downloading apps only from Google Play, downloading and installing APK files can be challenging. However, the general order of action is pretty simple. It is to:
you make Redbox TV APK download from the site directory to the selected android device;
you find the uploaded file;
click on this file for automatic application installation;
after installing the app, delete the downloaded APK file to make space on your device.
You can use the identical method to install other software. Moreover, unlike Google Play, you will find many more exciting programs on special internet directories. Once you download their APK files, it will be easy to install such apps for Android on your device as you will have experience with it.
TV channel selection
RedBox TV is a mobile program that helps users access an extensive collection of live TV channels in fifteen world states. India, Turkey, Brazil, Malaysia, Germany, Pakistan, and the United States of America are among them.
Media are presented with various topics that describe religion, science, history, sports, and even content for kids. In addition, this program supports several of the world's most common languages, allowing users to interact with the program through the most convenient method. The content of this directory is divided into thematic sections.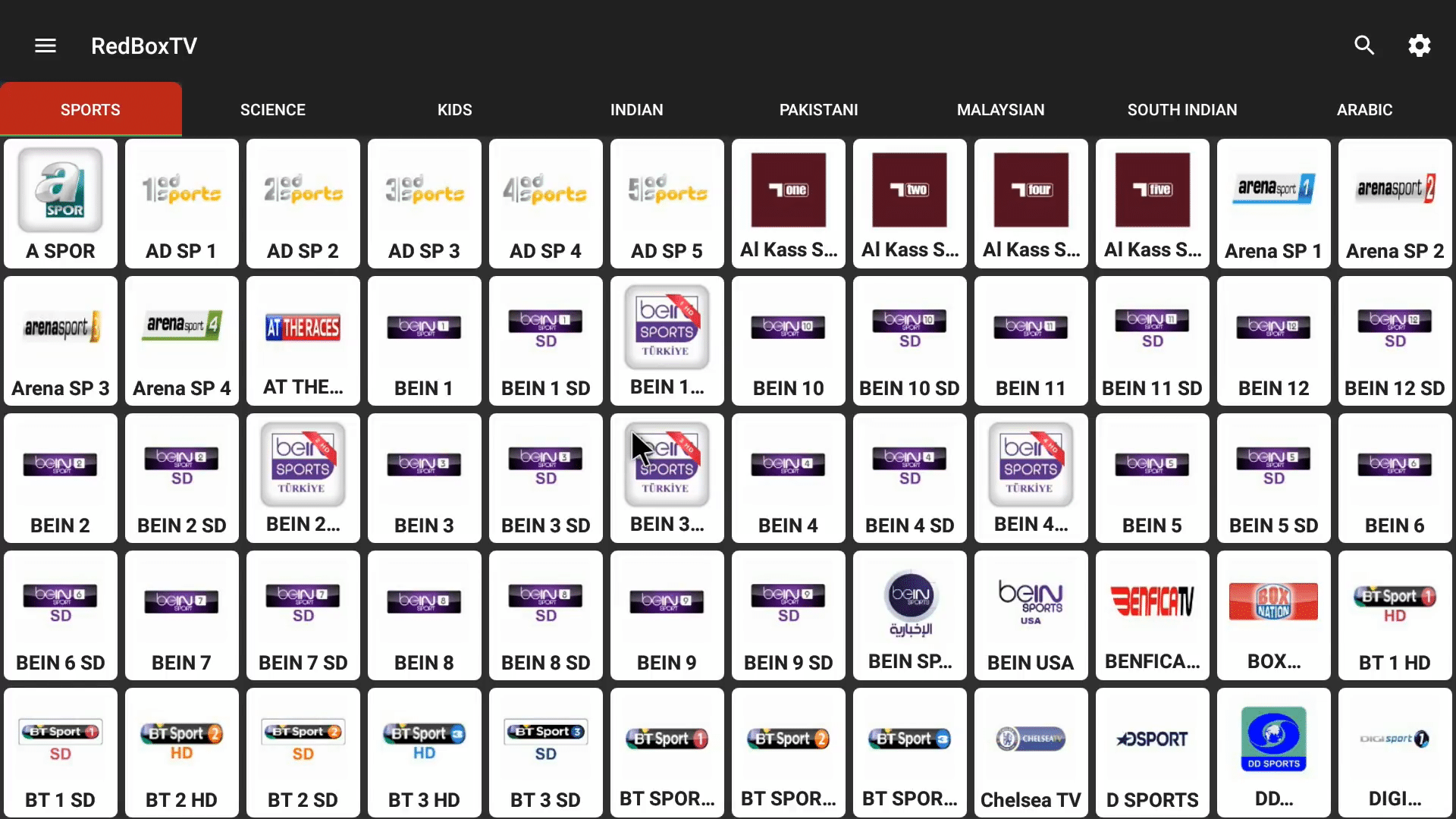 Each of them will give you a thematic set of channels. In addition, you can use the search bar to find channels or enter keywords to search for the video you want quickly. Users can customize the interface, add their favorite tabs and hide unnecessary ones.
When configuring this program to suit your tastes, you can put a password on your workspace. This ensures that no one can accidentally log into the app and see the user's preferred content.
Video playback
RedBox TV offers different options for viewing video content. By default, the user performs playback through a standard video player its creator developed. However, if you want to use external players from third-party manufacturers, you can do it too. Suppose the built-in player does not meet the user's needs.
In that case, this application will suggest you install the most suitable software for the most functional video players the market offers users today. After the first video viewing, users can save the player selection in settings. In subsequent runs of this program, the video content will be played through the player you have chosen automatically.
The main features of the RedBox TV app include the ability to access TV channels from all over the world, the support of several different interface languages, the selection of a regular or third-party video player, and no need to pay for downloading or using this program. The RedBox TV is compatible with all current Android mobile operating system versions.