We live in a world of modern technology, which is often ahead of our thoughts. Instead of thinking long and hard about what to buy for dinner at the store or which cafe to go to, you can open a particular utility on your smartphone, displaying all the reviews and reviews of nearby restaurants.
Let's take a more intimate look at some of them. Our editorial team scoured the internet and found five excellent utilities that will help you get all the information about a restaurant without even going into it. Here we go!
Yelp
Yelp is one of the fastest-growing and most well-known restaurant search apps. You can find various restaurant reviews to help you decide where to go. The main advantage of Yelp is that this utility uses GPS, which is incredibly accurate when marking a place on the map. Yelp has a vital social aspect and encourages users to leave reviews, rate, and post pictures.
Each Yelp account has a list of friends, which you can fill by syncing with your social networks (or your address and phone book). Other users can view reviews published on Yelp, while popular reviewers can gain Yelp Elite status. This utility is available for free on the App Store and Google Play.
Restaurant Guru
This is a convenient service for selecting restaurants in any region of any country. This utility is really relevant for travelers and foodies. With its help, you can find a quality place nearby and improve your overall travel experience by finding the best café or restaurant in a new area.
In Restaurant Guru, you can:
Choose the type of establishment – cafe, restaurant, bar, and so on.
Choose a cuisine – classic, exotic, vegetarian, etc.
Find out all the information about the restaurant – local menu, prices, address, opening hours, contacts for contact, etc.
Choose the best restaurant nearby, which will have a lot of positive feedback from experts and visitors.
Plot a route to the selected restaurant on the map.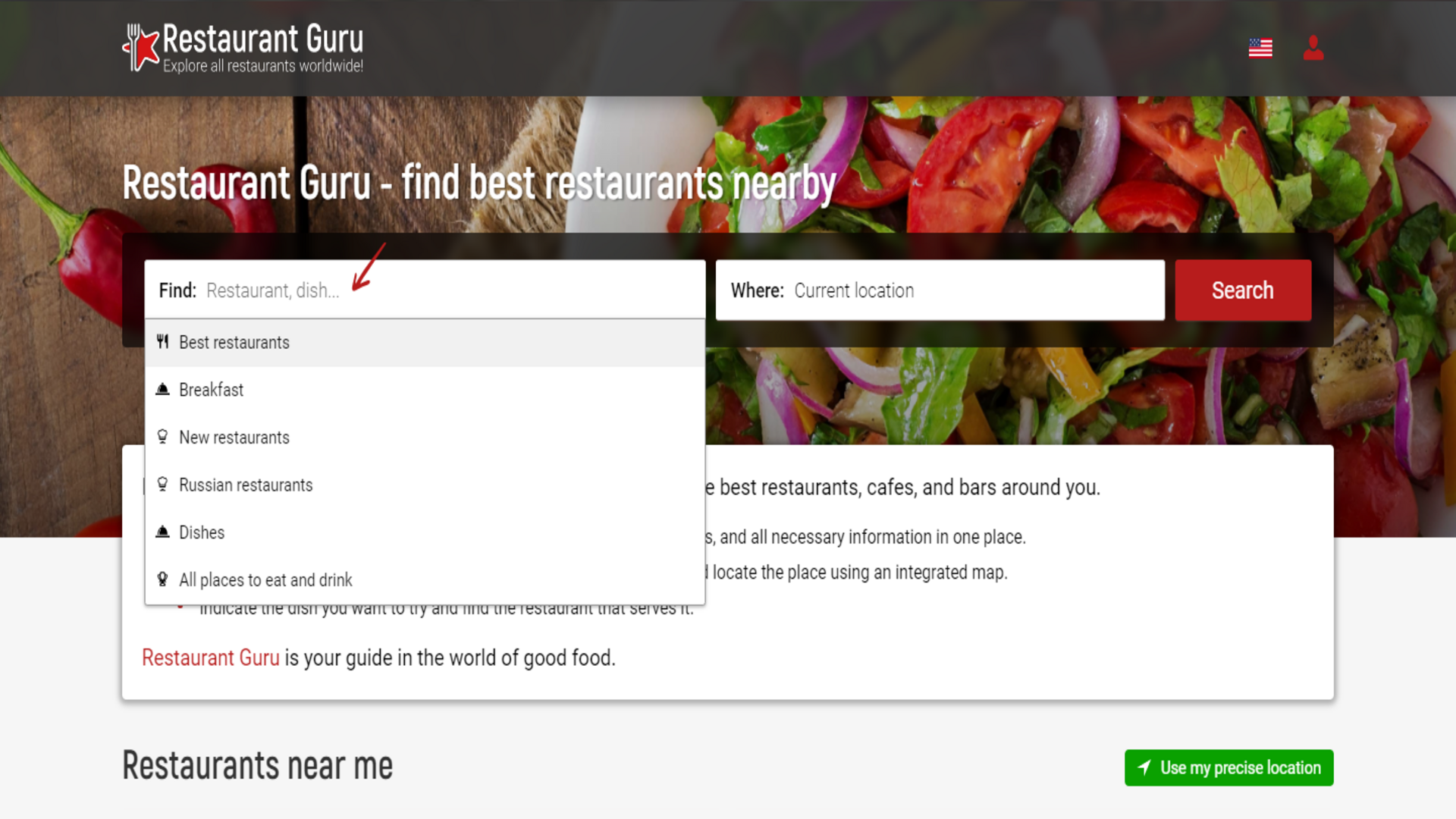 TripAdvisor
TripAdvisor is well known for travel reviews, but for some reason, not all users know that you can also use it to review local restaurant reviews. TripAdvisor is sure to notify you of all the excellent restaurants that are nearby. But that's not the only cool thing about this utility. You can also view your friends' restaurant reviews if you connect some social network to your TripAdvisor account.
Restaurant Finder
This app uses the Google search feature on your smartphone to find restaurants near you. You can conveniently filter restaurants by category on the main Restaurant Finder screen. So, for example, if you're a seafood lover, you can make this app display only those restaurants that serve that food. However, you can also search for restaurants in other categories.
FoodSpotting
Unlike its competitors, FoodSpotting relies on photos rather than descriptions. Users add their pictures and geo-tagging in this utility, and the data is saved in the app. The first time you open it, your location is detected, and photos of food from nearby establishments are shown.
However, FoodSpotting, despite such an exciting and unusual approach, still has a significant disadvantage. It lies in the fact that many people take photos of food poorly, as a result of which it is only sometimes possible to make out what is happening in the image.